Melbourne's Best Winery & Brewery Flooring Solution
Services
Having a cold beer or glass of wine at the end of the day is a right of passage for many Australians. For those who brew, bottle, and sell beer or wine, it's essential to have a clean and safe working facility to produce quality alcohol consistently.
The final product may be impacted if a brewing facility cannot withstand high impact, heavy machinery, and significant moisture and wetness. Having the right distillery, wine cellar or brewery flooring goes beyond health and safety standards. There are strict regulations that require breweries to have flooring that complies with sanitation standards.
A concrete floor is the best solution to guarantee a high-quality product and ensure these safety standards. Here's why.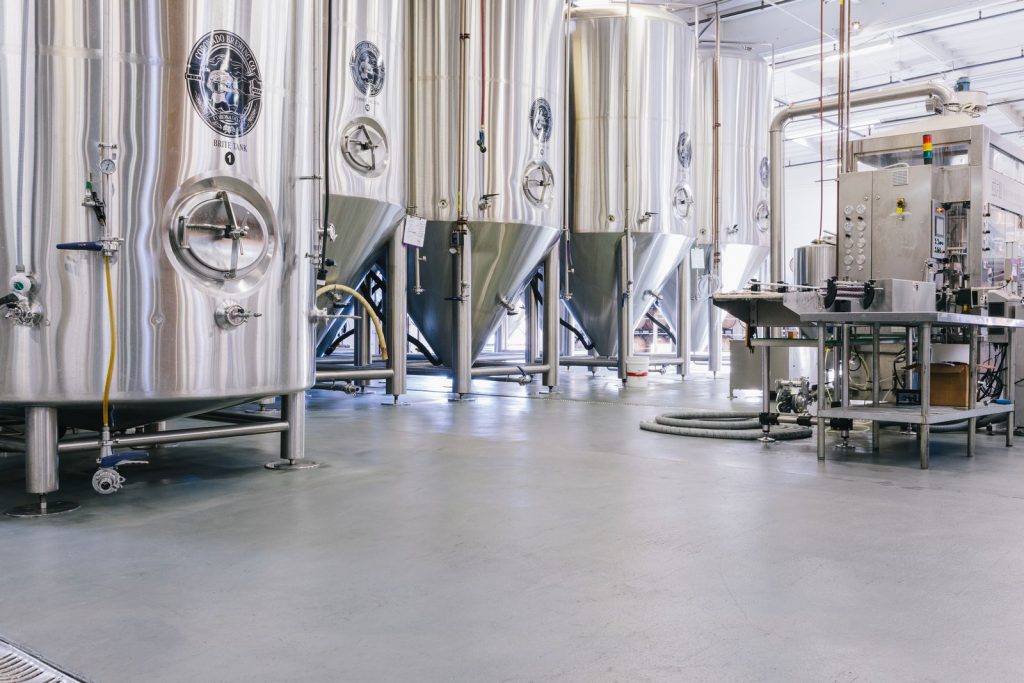 Why is Concrete the Best Winery & Brewery Flooring Option?
Having a concrete floor offers many benefits to breweries, wineries, and distilleries alike. Due to the nature of the business, the floor is a high-risk area as it's constantly coated in liquid from spills. To mitigate this risk of trips and create a safe working environment, you need a floor with non-slip properties that enhance traction while walking across it.
When considering winery and brewery flooring options, there are several key factors you should think about.

Chemical Resistant
Brewery flooring is inherently exposed to corrosive ingredients and chemical agents such as yeast, alcohol, malts, enzymes, brewing sugars, and harsh cleaning agents. Your brewery floor should be built to withstand constant exposure.
Full Coverage
A full-coverage or non-porous surface means no cracks or gaps in your flooring. This will ensure there is no buildup of bacteria or other concerning microorganisms that can cause significant harm to safety standards and product quality.
Durable
Distillery, winery, and brewery flooring needs to be durable and withstand harsh conditions, including heavy foot traffic, heavy machinery, and abrasive spills that can erode the surface. Additionally, you want to make sure your flooring can handle wet and dry conditions so that no one slips and hurts themselves.
Distillery, and Brewery Epoxy Flooring
Epoxy flooring is a popular flooring option for breweries and distilleries. Its popularity stems from the fact that it's strong, has minimal shrinkage, fantastic adhesion capabilities, chemical resistance, and insulates against electricity.
Epoxy is a relatively cheap and easy-to-install type of concrete floor. This is what makes it such an attractive flooring option for working distilleries, wineries, and breweries. It can also be installed over any existing floor.
Additionally, our skilled flooring specialist team at Concrete Floor Renovations can add slip-resistant agents to an epoxy floor to ensure it remains safe and easy to walk across and operate on while wet.
Commercial Flooring for Wineries
Winemakers, just like brewers, need a floor that's both strong and safe. Having an uneven floor that requires consistent repairs can become expensive very quickly. Also increasing the likelihood of wine barrels cracking, moving, or even falling.
Winery flooring not properly maintained creates an ideal breeding ground for wild yeast and bacteria.
Like breweries, winery floors need a special type of commercial floor coating. The most important consideration for winery floors is bacteria because, in the winery cellar, yeast and fermentation are essential ingredients for production.
Additionally, polished concrete and epoxy floors are easy to clean and maintain. You can even use a high-pressure hose to wash any harmful liquids or chemical agents away.
Avoid bacteria building up, affecting the safety of your premises and the quality of your wine by having the best type of concrete floor for your needs.

Contact Concrete Floor Renovations to Discuss Your Brewery, Winery, or Distilleries Flooring Options
Are you building a new brewery, winery, or distillery in Melbourne? Or are you looking to upgrade your existing slab and coat your floor with epoxy?
Whatever stage you're at, our friendly team can help get you the foundation you need to operate the best way you can. With over 20 years of experience, we have worked with every type of business in almost every industry, we also offer flooring removal, concrete grinding and Sealing. With this we can tailor solutions to your specific needs, so you can focus on making the best possible beverage you can.