Epoxy Flooring

Melbourne

Services
If you're looking for a durable and economical flooring option, that is both aesthetically pleasing and long lasting, consider epoxy flooring.
A great choice for high-traffic areas in residential, commercial and industrial settings, epoxy flooring is customisable to suit your vision.
Here at Concrete Floor Renovations, we offer a wide variety of both clear and solid colour epoxy flooring finishes.
What is epoxy flooring?
Epoxy flooring features a mix of polymer resins and hardeners that chemically bond together to create a rigid floor coating. With a smooth and shiny finish, clear epoxy looks similar to polished concrete. It is also available in a range of solid colours to suit various industries.
For epoxy flooring with additional interest, we also offer vinyl flake flooring. It has all of the benefits of standard epoxy, with multi-coloured chips in the mixture to create a decorative finish.
Call us to find out if epoxy flooring Melbourne is right for you.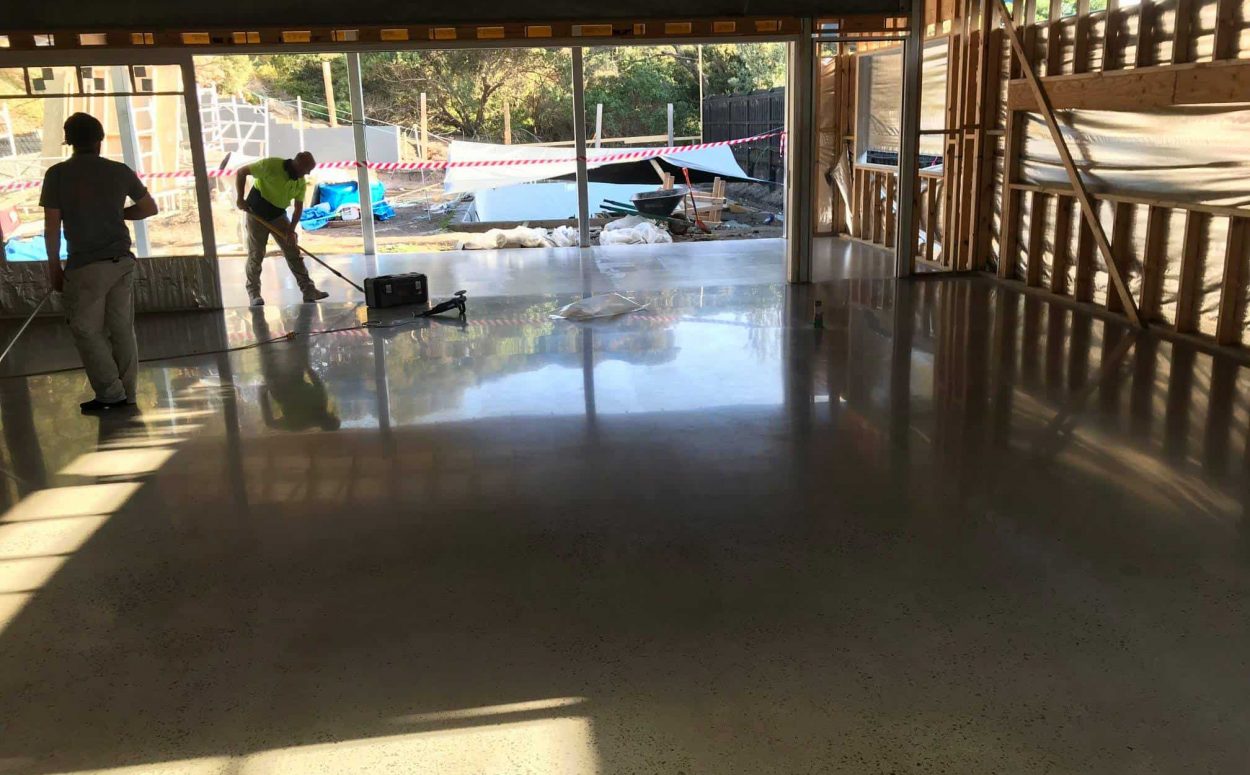 We work with you to design epoxy floors to meet your needs.
After deciding epoxy flooring is the best approach for your home, commercial or industrial premises, we will confirm the appearance you are wanting to achieve from options of clear finishes to a variety of colours.
We will then prepare the surface by completing any concrete repairs and diamond grinding the concrete to a smooth clean finish in readiness for application of the epoxy.  
Concrete floor renovations is a leading provider of epoxy resin flooring in Melbourne. Epoxy resin is then mixed with a hardener and applied to your floor. The reaction of the resin and the curative create a coating that is both strong and durable.
What are the
benefits of epoxy flooring?
Epoxy concrete floors Melbourne offer many benefits:
        Durable

        Cost-effective

        Resilient

        Impervious to many chemicals

        Hygienic

        Waterproof

        A visually appealing smooth & shiny finish

        Low maintenance

        Non-slip
How long does it take to install epoxy flooring?
Installation will depend on the size of your floor and the preparation required before the epoxy can be applied.
You can walk on your new epoxy floors generally 48hrs after application. However, we recommend waiting a week before operating machinery or parking cars on your new flooring.
Is epoxy flooring expensive?
No. Epoxy flooring is very cost-effective. It is generally one of the cheaper options to resurface your floor areas. 
Pricing will also depend on the size of your floor and any preparation ahead of applying the epoxy finish.
Do you recommend epoxy garage floors in Melbourne?
Yes, We recommended the epoxy garage floor in Melbourne. Epoxy concrete floors are great for the Melbourne lifestyle and climate. They are durable, waterproof and slip resistant.
Is epoxy concrete flooring suitable for commercial locations?
Yes. Commercial epoxy flooring is a service we provide often, for a wide variety of customers, from stylish interiors to multi-level car parks, factories, warehouses, etc.
What is epoxy floor painting most suited to in Melbourne?
Looking Epoxy Floor Painting & Coating in Melbourne? Epoxy flooring is available to homeowners, business owners and in industrial environments. We see it most often chosen for sites where the antimicrobial properties and dust-free, non-slip features are required most, including hospitals, laboratories, garages, commercial kitchens and factories.
We've also painted epoxy on floors of gyms, shopping centres, supermarkets, bakeries, office spaces and food production facilities.
Contact us to discuss your concrete flooring options.
Is residential epoxy flooring very common?
Yes. Residential Epoxy flooring is very common. Epoxy flooring is best for high-traffic rooms requiring durability, including laundries, kitchens and children's playrooms. Due to the range of colours available, customers also love style options available for living rooms.
Is epoxy flooring cold?
Epoxy flooring like most other hard flooring will get it's temperature from both the concrete substrate underneath it and the ambient air temperature hence the surrounding environment determines whether the floor is cold or not.
What is the difference between epoxy flooring, epoxy floor painting, epoxy floor coating and epoxy resin?
While often used interchangeably, there are differences:
Epoxy flooring: Can be either a roll on coating or a trowel on epoxy system which is thicker or a combination of both. 
Epoxy floor coating: Generally refers to a roll-on epoxy coating.
Epoxy resin: This refers to the liquid used as part of the epoxy flooring process. It bonds with a hardener to create epoxy flooring.
Epoxy floor painting: Generally refers to a roll-on epoxy coating.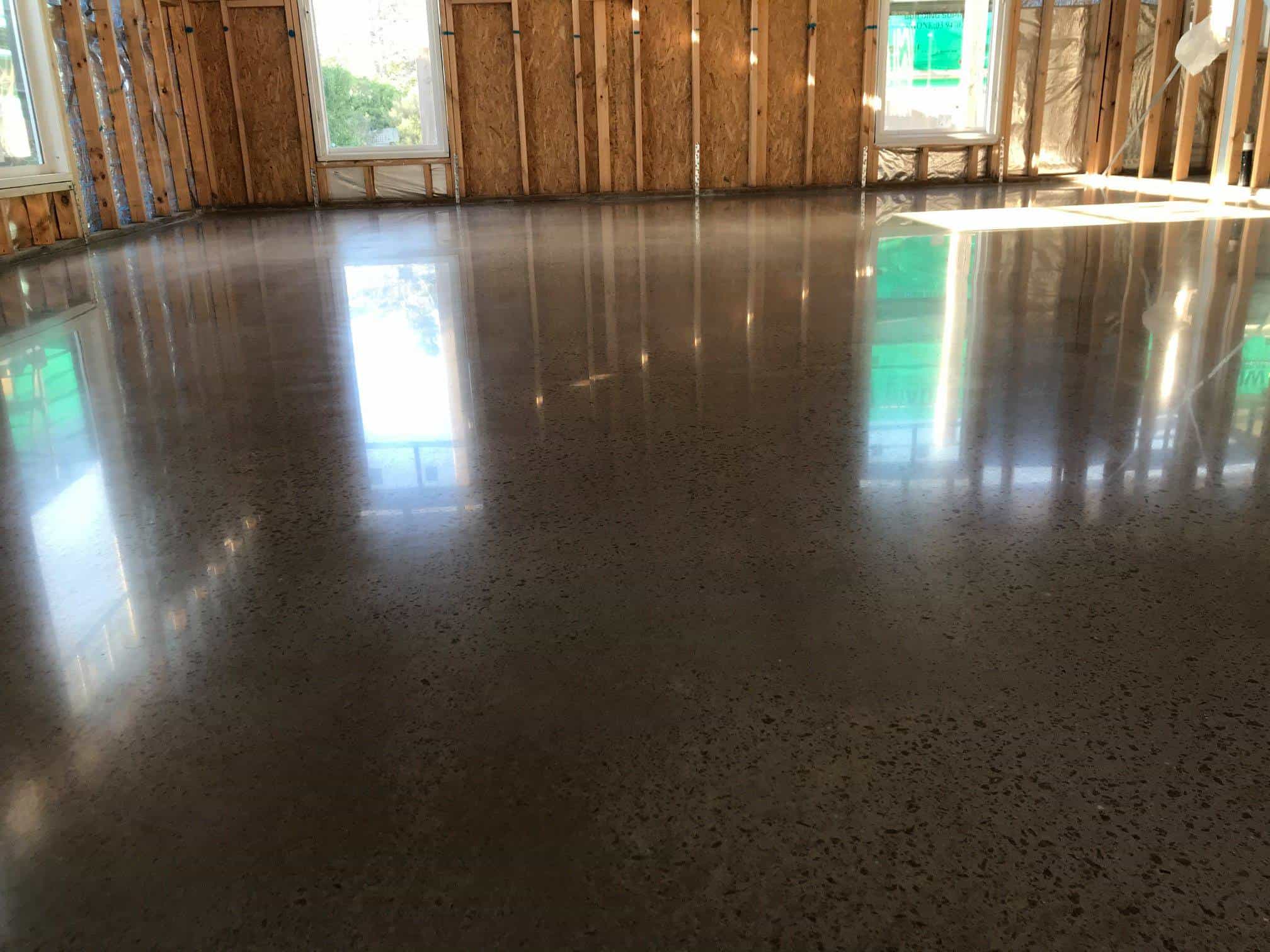 Why choose

Concrete Floor Renovations?
We've been specialising in the concrete flooring industry for 20 years and have attracted many fantastic reviews in that time. We take pride in not cutting corners, with a focus instead on completing very high-quality work.
Get in touch for commercial Epoxy flooring and Epoxy polished concrete in Melbourne. Contact us for more information.