Melbourne's Best Commercial Kitchen Flooring Solutions
Services
There's something about the energy of a restaurant kitchen. It's hot, fast-paced, food is spilling, and people are moving quickly from one side to another to plate up food on time. It goes without saying that commercial kitchen flooring experiences severe wear and tear. Your restaurant or cafe kitchen floor needs to withstand extreme temperature changes, harsh cleaning products, hot greases and oils, and heavy foot traffic from morning to night.
To protect your staff, guests, and premises, consider installing commercial concrete flooring. It's the best flooring option for a commercial kitchen as it remains reliable in almost every situation and environment.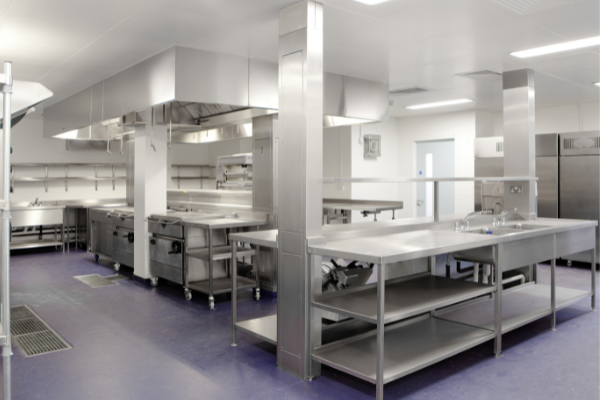 How to Choose The Best Flooring For Commercial Kitchens
There's a misconception that a concrete floors are dull and industrial. But in fact, a concrete kitchen floor can be both functional and stylish. This is just a bonus to the many benefits concrete floors possess compared to other flooring solutions. When choosing your commercial kitchen flooring, make sure you consider the following factors.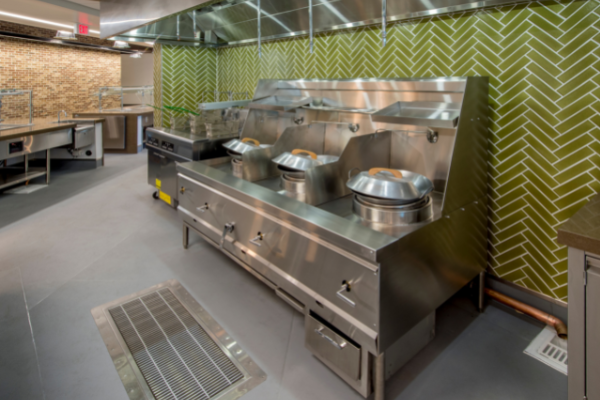 Moisture
Restaurants and kitchens have increased humidity which can breed moisture. Cooking, cleaning, spills and hot temperatures create dampness on the surface of floors, and if you have a weak floor, the condensation can erode and deteriorate the surface
Maintain Hygiene Standards
A commercial kitchen needs to meet rigorous hygiene requirements. Staff must practise good hygiene standards, equipment and cookware must be sanitised, and goods should be stored properly. Minimising the potential for bacteria and mould is essential, and choosing a seamless and non-porous floor will prevent liquid from absorbing into the floor.
Additionally, the Government has highly regulated health and safety checks and completes routine sanitation inspections to maintain standards. Choosing the right floor, such as a polsihed concrete commercial kitchen floor, will help you meet safety standards and maintain hygienic codes of conduct.
Chemical Resistant
In a commercial or restaurant kitchen, think of how many harsh cleaners and chemicals are used to clean daily. Most of the degreasers and detergents will end up on the floor and, after prolonged exposure, may cause blistering and cracks in untreated flooring resulting in costly repairs or removals. The best way to avoid spending unnecessary money is to invest in a concrete floor with an inbuilt chemical resistant coating.
Thermal Shock
Between the hot ovens and stoves that expel heat and the frosty coolers and walk-in freezers that produce cold temperatures, a commercial kitchen floor experiences a spectrum of temperatures. The extreme variation in temperature causes kitchen floor coatings to expand and contract, and when this occurs, gaps may occur in the floor that can cause significant safety hazards. A commercial kitchen needs a thermal-resistant floor that maintains its bend despite harsh conditions. A concrete floor has a lot of thermal mass, making it a brilliant material to minimise thermal shock.
Non-Slip
The biggest concern in a commercial kitchen floor is slip hazards, and the best way you can prevent accidental slips and falls on the premises is with a slip-resistant floor. Concrete epoxy floors have a resin-based coating that is general non-slip and provides a better grip even if there is liquid on it.
Contact Concrete Floor Renovations to Discuss Your Brewery, Winery, or Distilleries Flooring Options
Epoxy floors have a highly durable and resilient surface, making them an excellent option for commercial kitchen floors. The advantages of epoxy floors include:
Resistant to chemicals, solvents and acids
Antimicrobial properties and dust-free making it hypoallergenic
Slip-resistant
Fast application and minimal work disruption
Strong and robust suitable for heavy machinery and lots of foot traffic
Availability in a variety of decorative finishes
One of the biggest advantages of epoxy floors is that they are easy to maintain. Read our article about how easy it is to clean your concrete epoxy floor.
Commercial Kitchen Flooring Specialists in Melbourne