Commercial Concrete Flooring Melbourne
Industrial
If you own a commercial or industrial premises in Melbourne, then good quality, robust concrete flooring is the perfect option as it not only looks great but is extremely functional. From cafes and restaurants to warehouses and offices, commercial concrete flooring comes in a range of different options at an affordable price while still allowing for a high-end look.
Commercial Flooring Solutions
Next time you're in a commercial location like a supermarket, café or gym, take a look at the flooring. It will most likely be concrete. This is because concrete floors have become very popular as they look great and offer a tonne of practical benefits. Depending on the type of business you operate, along with the look and feel you're after, there is certainly a concrete option to match.
Finding out what is the best approach for your commercial premises is the first step? It's best to assess your needs, and then consider the look you're after.
Hospitality venues, wineries, bars, cafes and restaurants: These require slip resistance and good looks. You want to ensure your staff can move around the premises quickly and safely, while ensuring any spills are easy to clean up. Your flooring also needs to stand up to a high amount of foot traffic, so durability is key.
Office buildings, hotel lobbies and showrooms: Aesthetics are likely highest priority on the list. Polished concrete can provide a high-end look, popular in design magazines, with various options to give the flooring texture and gloss.
Supermarkets and shopping centres, schools and gyms: high foot traffic will be the biggest concern. Concrete flooring is very durable and long lasting, making it a perfect option for large, high traffic areas. It's also very easy to keep clean. A simple sweep or mop and it's ready to go.
Hospitals and commercial kitchens: Cleanliness is likely to be the highest priority for these premises with slip resistance crucial to maintain safety. Sealed concrete is very low allergen. It won't collect dust or attract mould, making it a great choice for medical centres and commercial kitchens.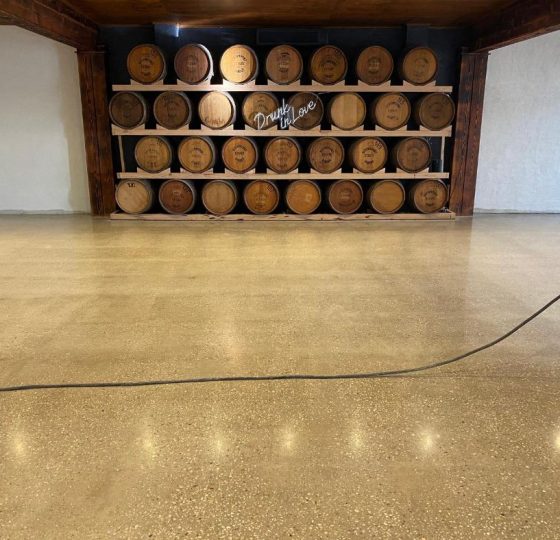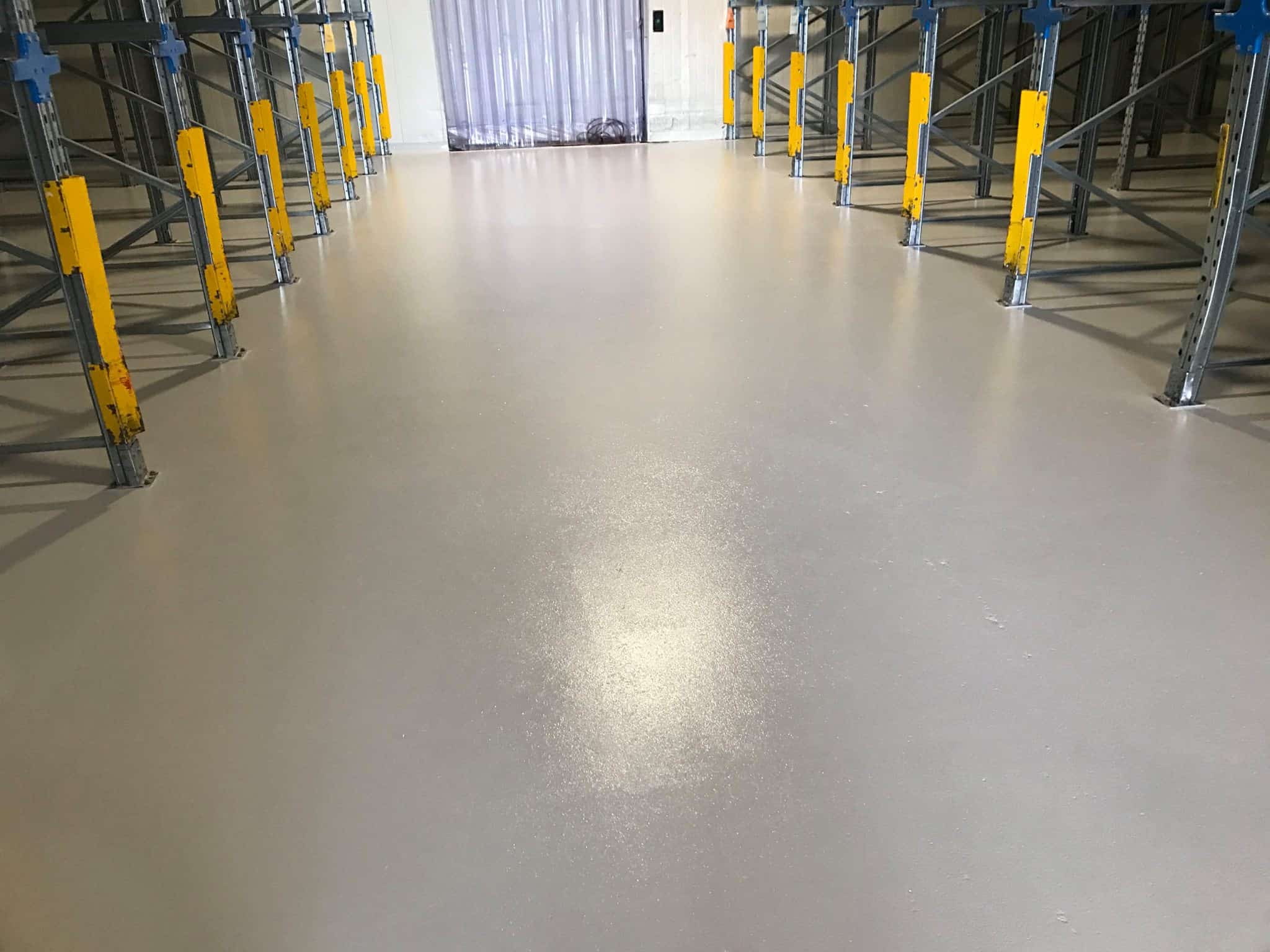 Concrete Flooring

for Industrial Spaces
Concrete floors are also a great choice for industrial locations like warehouses and factories and car parks.
Why? Concrete flooring is:
Durable – meaning it can stand up to lots of wear and tear.
Low maintenance – cleaning any spills and quick and easy
Slip-resistant – making it a safe option for busy workplaces
Waterproof – Chemicals and spills won't penetrate the surface
Cost-effective – Ensuring you can cover a large area
Long lasting – Giving you peace of mind
This means you can feel confident your flooring will stand up to heavy machinery and you'll have the peace of mind the surface is impermeable to any chemical spills. Simply give your floors a sweep or mop and they'll last for years.
Have specific industrial concrete flooring specifications in mind? No worries. We have renovated and installed concrete flooring in hundreds of varied industrial locations.
Commercial polished concrete floors
Services
Are other commercial cement floor coatings available?
Yes. Many commercial and industrial property owners also opt for epoxy coatings. Check out all our commercial concrete flooring options in Melbourne
To give a commercial building like an office, café or showroom that additional professionalism or high-end style, you really can't look past polished concrete.
Depending on your budget and the aesthetic you're after, we provide two polishing options, with plenty of variation on gloss levels and colour as well.
Grind and seal polished
concrete involves using a diamond grinder on the concrete's surface, followed by a topical sealer over the surface. You can then choose between a matt, satin or gloss finish. It is the most economical choice because it embraces the natural features of the concrete.
Mechanically Polished Concrete
involves grinding, grouting and repairing your floors, which is a more involved process. We then harden the floor's surface by using a densifying compound. Finally the surface of your floor is polished with diamond impregnated resin pads to reach the level of gloss you'd like for the look of your site. Mechanically polished concrete is really great choice if you're after a high-end, chic look.
Epoxy commercial flooring includes a mix of polymer resins and hardeners that chemically bond together creating a long-lasting coating. 
it's smooth and shiny finish, clear epoxy looks similar to polished concrete. It comes in wide variety of colours to suit any industry.
Is epoxy flooring a good choice for commercial locations?
Yes. Epoxy flooring is a popular option for commercial premises due to the wide range of colour and style options, as well as the practical benefits. Clear epoxy can take on the look of polished concrete. It's also a bit of a chameleon – it can also look like floorboards, marble or take on any look you'd like in a huge range of colours. Unlike wood or marble, it will be easier to clean and last longer.
Removal of your existing flooring to reveal the concrete underneath is a great way of revamping and adding style to your Industrial or commercial space.
We can remove most floors, including tiles, wooden floors, carpet, cork or linoleum, including any glues used to fasten your old floors.
Can you remove tile flooring?
Yes. We understand you may have chosen concrete as your new flooring option but need to remove your current floor first. It's all part of what we do every day, and we're happy to help.
As a business owner, we understand you want to get up and running in your new space, or after a renovation as quickly as possible.
We can also help you assess how to make the best of the concrete flooring underneath. It will likely only need to simple grind and seal to bring out its natural features, in preparation for polishing.
We grind your floors using a variety of grinders with different grinding discs and pads depending on the amount of old material requiring removal and level of smoothness sought. 
We will ensure your space is clean by using a dust extraction system to minimise dust particles in the air.
Why do commercial concrete floors need grinding?
Regardless of location, part of the process of renovating your floors, or installing new concrete is the grinding process. It allows us to smooth over imperfections that may have developed in your existing concrete floor or as a result of pouring a new slab. It is an important step before sealing and finishing your floors.
Concrete sealing is the process of applying a protective film over the surface of your concrete flooring to provide durability and longevity. 
We offer a variety of sealing options to complement your commercial concrete flooring in Melbourne, including epoxy coatings, polyurethanes and densifiers.
What does concrete sealing involve?
After repairing and grinding your floors, sealing is the next step. It involves applying a protective topical sealer over the surface of the floor of your commercial premises. Sealing options include epoxy coatings, polyurethanes and penetrating sealers. We can advise on the best approach for your needs.
floor levelling uses different compounds and repair mortar products which is a suitable finish to new or old commercial concrete floors.
A level floor is essential in a commercial setting as the space is often used by the public and needs to be safe and functional
My floor isn't level. Can you fix it?
Yes. We can level an existing concrete floor and we'll ensure a new floor is level. It's all part of our concrete renovation services.
We do this by using a variety of floor levelling compounds and repair mortar products to repair concrete surfaces that may have deteriorated over time due to high use, wear and tear and environmental exposure.
Looking to create a stylish and functional space for your new or existing commercial kitchen?
Looking for commercial concrete flooring solutions for your new or existing Cafe & Restaurants?
Looking to create a hygienic, functional and stylish space for your new or existing commercial brewery or winery?
Looking to create a stylish and functional space for your new or existing commercial Gym or Exercise Studio?
Looking for a clean and durable flooring option for your new or exisiting medical clinic or Hospital?
Looking to create a stylish and functional space for your new or existing commercial Schools & Universities?
Looking to create a stylish and functional space for your new or existing commercial retail store or shopping centre?