Concrete Flooring for Offices

Melbourne

Services
If you're looking for a stylish flooring option for your Melbourne office or commercial space, that is both welcoming and able to stand up to a steady flow of foot traffic, consider concrete flooring. 
Available in a wide range of styles and colours, concrete flooring can help you create a beautiful, modern look, popular in design magazines. 
As well as fashionable, concrete flooring offers a huge range of benefits, making it ideal for office and commercial environments. Its durability and cost-effectiveness are two benefits that really stand out for most of our corporate office flooring customers.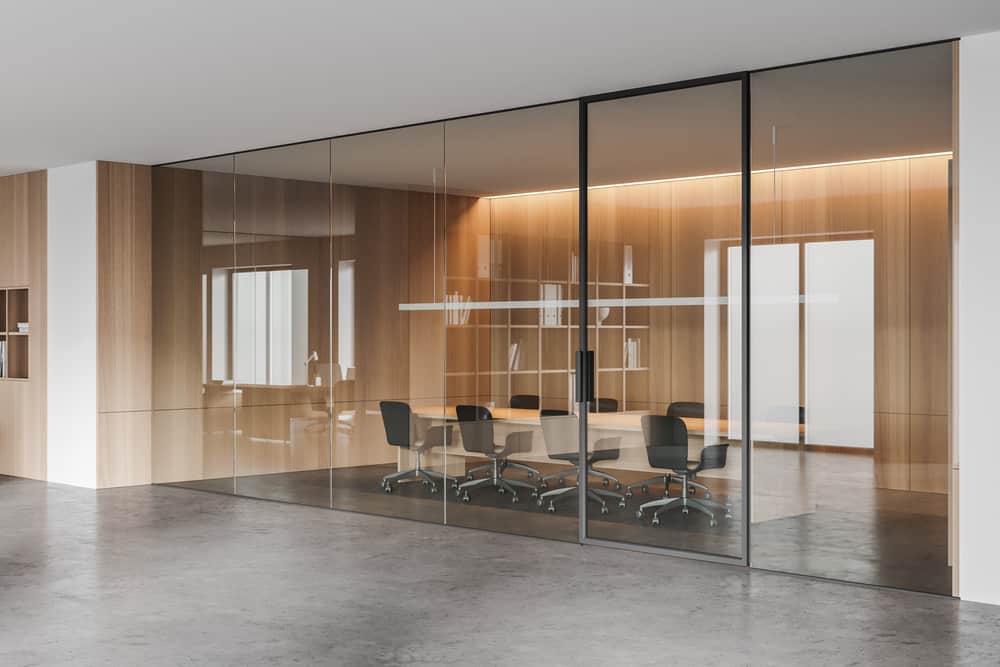 Flooring Solutions for Offices
Whether you are building a new office or renovating an existing space, concrete flooring is an incredibly versatile option. 
Concrete flooring is a popular choice in coworking spaces, design agencies and architecture firms, as well as medical clinics, office lobbies and home offices. 
Why? It is:
Stylish and modern

Low maintenance

Cost-effective

Durable 

Waterproof

Slip-resistant
Commercial flooring in Melbourne
In addition to offices, concrete floors also lend themselves very well to other commercial spaces, such as supermarkets, gyms, showrooms, and hotel lobbies as it is both aesthetically pleasing and will stand up well to foot traffic, car tyres, and other equipment over time. 
What are the best flooring options for
office spaces?
Concrete is one of the best office flooring solutions for a wide number of reasons. If you're exploring concrete for the first time, there are a number of different types and options, all with their unique features and benefits. This includes polished concrete and epoxy concrete.
Polished Concrete Flooring Options for Offices
Have you walked into an office space and remarked at how bright, clean, and stylish it felt? If you're wanting to transform your office into a professional, welcoming space, full of natural light, polished concrete flooring can help you create this type of environment. 
By mechanically polishing concrete, we can create floors that shine and reflect natural light as it pours in through windows.
What are the benefits of polished concrete flooring for offices?
In addition to its stylish appearance and ability to reflect natural light, polished concrete is one of the best concrete flooring options for offices because it is safe. 
Despite its shiny look, polished concrete is slip-resistant, even when it gets wet. Mechanically polished concrete floors are sealed during the polishing process, meaning they are stain-resistant. 
Polished concrete is also a great choice for offices because it is durable, meaning it will look great for years to come, with little maintenance. 
It's also environmentally friendly, easy to clean, and low allergen, creating a healthy work environment for you and your team. 
Are
polished concrete

floors expensive for commercial office settings

Remove
As they are so long lasting, polished concrete floors are incredibly cost-effective for office environments. 
Mechanically polished concrete is the most durable and abrasion-resistant finish, and involves a process of grinding, grouting and repairing your concrete floor. It then involves densifying and hardening the concrete followed by polishing with resin pads up to the desired gloss level.
Grind and Seal polished floors involves a simpler process, embracing the natural features of your concrete floor, grinding your floors surface before applying a topical sealer. 
Due to its insulating qualities, polished concrete retains heat in winter and stays cool in summer, making your office a comfortable environment for staff and visiting clients, and saving you money in heating and cooling.
Are concrete floors available in different colours?
Yes. You can include different aggregate (stones) mixes in your concrete and even choose a coloured concrete mix if you're laying a new slab. We will then grind, seal and polish the surface to highlight these chosen elements. 
If you're looking for a solid colour, epoxy flooring is a great option. This involves grinding and preparing your concrete floor area followed by the application of a quality industrial strength epoxy coating in a colour of your choice.
Epoxy is available in a wide range of colours. Vinyl flake flooring is also available, with multi-coloured chips in the epoxy mixture to create a decorative finish.
Do you offer floor removal and levelling?
If your office space requires remodelling, we can also help you remove existing flooring, grind and then level your floors, in preparation for laying of new flooring.

We can remove a range of flooring types including tiles, vinyl, carpet, and timber as well as glues, membranes, and other materials.
Best concrete flooring for offices
Concrete Floor Renovations was founded by Owner/Director Dominic Kinsella in 2003. As one of Melbourne's top concrete flooring renovation companies, we pride ourselves on making even the most damaged office floors look brand new. We look forward to providing a welcoming space for your office or commercial premises, via stylish concrete flooring.Contact us for a quote.