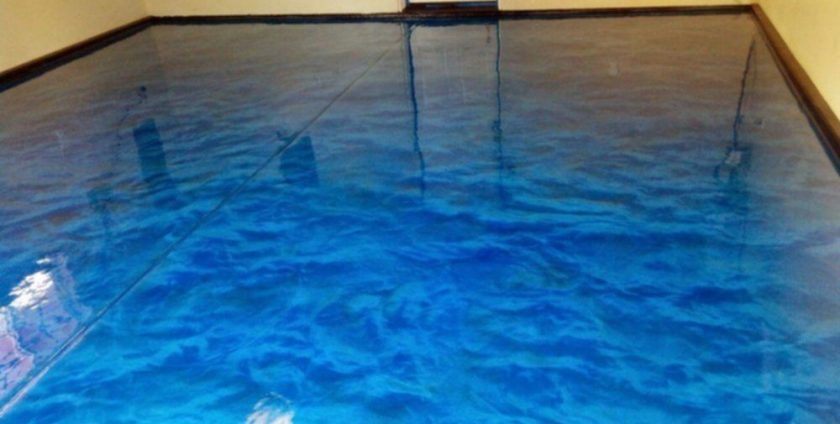 Why Epoxy Flooring is the Best Option for Commercial Properties
Deciding on the right flooring for your commercial space is an important decision.
Epoxy flooring is a great option for commercial properties in Melbourne because it is highly durable, lending itself well to large spaces and high traffic areas. Epoxy is an easy and cost-effective way of transforming even the most damaged concrete floors into beautiful surfaces you can feel proud of, with a wide variety of colours and finishes to choose from to create a look to suit your environment.
What is epoxy and why is it the best flooring for commercial properties?
Epoxy flooring features a mix of polymer resins and hardeners that chemically bond together to create a rigid floor coating. With a smooth and shiny finish, clear epoxy looks similar to polished concrete. Epoxy is also available in a range of colours making it very versatile.
Why choose epoxy flooring?
Epoxy flooring is a very popular choice for commercial spaces, from stylish interiors like restaurants and luxury car showrooms, to multi-level carparks, factories and warehouses. Why? Here are some of the many benefits: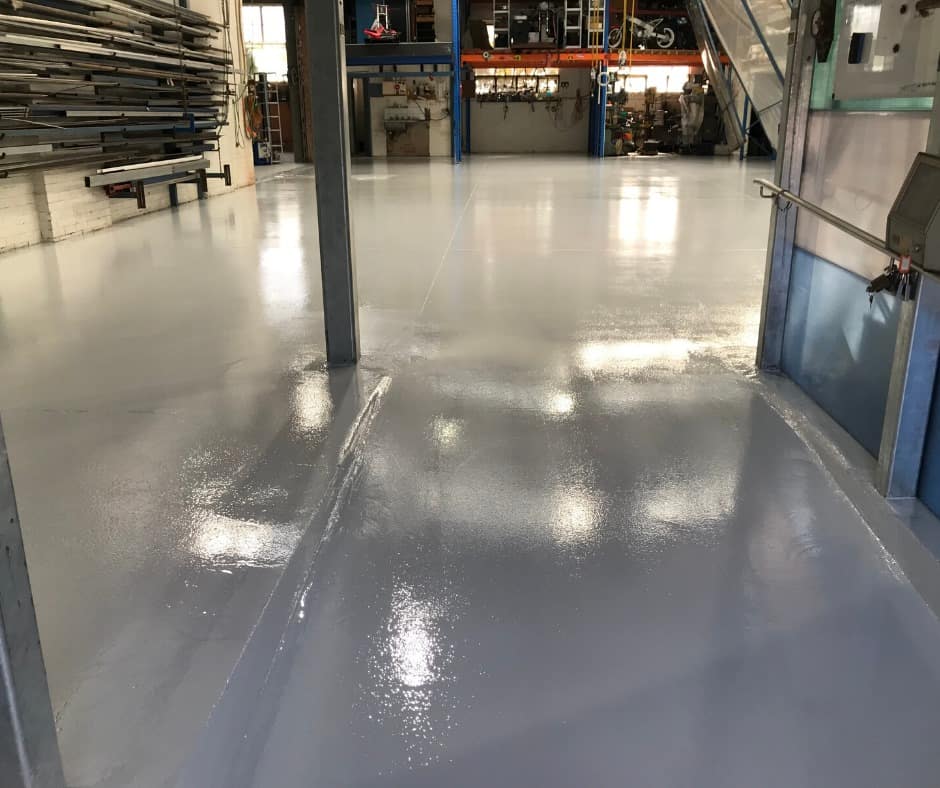 Epoxy flooring is durable
One of the most common reasons businesses choose epoxy is due to its durability. Concrete floors with epoxy coating last longer than untreated floors and are very resistant to wear and tear.
Why? Due to the hardeners in the resin, epoxy is very strong, providing an impermeable surface, perfect for heavy foot traffic, vehicles and machinery.
Epoxy is also heat-resistant, making it a great choice for commercial kitchens.
Epoxy is cost-effective
Depending on the look or functionality you're after, epoxy is a great option providing style and functionality, while also being cost-effective.
Epoxy itself will cost more than a standard concrete sealer, because it involves a number of raw materials, but it's also much stronger – meaning your floors will last for many years, saving you replacement and maintenance costs over time.
While clear epoxy looks similar to polished concrete, it involves applying multiple coats of an epoxy coating on top of your existing or new concrete slab, which is a simpler process when compared to polishing concrete.
Easy to maintain
Epoxy floors are very easy to maintain. The epoxy resin seals pores in your concrete, covering it to create a waterproof and stain resistant finish, making epoxy floors long lasting and really easy to clean, by using a commercial vacuum, sweeping or mopping.
It's a good idea to use a vacuum with soft brush attachment to remove dirt and sand from your epoxy floor, because even though epoxy floors are hard wearing, removing grit will ensure it remains scratch-free over time.
Keep in mind soap can leave a hazy residue, and is only required to clean up spills, rust or when dirt is tracked in. You'll only need warm water and a good ph neutral detergent mop to routinely clean your epoxy flooring.
Slip-resistant
Epoxy allows you to operate a commercial space that is both aesthetically pleasing and safe.
Despite its smooth finish, epoxy flooring can be made slip-resistant by adding a fine or coarse grit thru the coating depending on your requirements making it ideal for commercial kitchens along with other high risk areas such as manufacturing and production areas and wet areas such as bathrooms, laundries, toilets etc.
Epoxy is also skid-resistant, so you may notice how often it is used in car parks and car showrooms – and even in schools.
Healthy and hygienic
You won't need to worry about bacteria build up, mould or other allergens with epoxy flooring, because they will not grow on the surface. Why? While untreated concrete floors and tiled floors are porous and contain cracks, or
grouting, epoxy is sealed and smooth. There are no hiding places for bacteria to grow or for mold to build up.
Epoxy also repels dust, making it a perfect flooring option for people with allergies, or in hospitals, medical clinics and commercial kitchens.
Resistant to chemicals
Due to its industrial strength and inherent properties epoxy floors are resistant to chemicals, making it an ideal flooring choice for warehouses or other commercial locations required to regularly handle chemicals. While concrete is porous, epoxy coating fills in the gaps and makes the surface impenetrable. This ensures your flooring will not corrode. Chemical spills won't absorb into your epoxy floor. They can be simply wiped up.
Epoxy is available in a wide range of colours
If you can dream up a colour, you can very likely find an epoxy to match, providing options for businesses looking for a unique look. Epoxy is available in everything from a clear finish, through various shades of grey from a light silver grey thru to a charcoal along with reds, blues, yellows and greens etc with just about any colour on the Australian Standards colour chart able to be specially made depending on the size of the job. You can also choose metallics or vinyl flake flooring, providing the benefits of standard epoxy, with multi-coloured chips in the resin to create a decorative finish.
Epoxy flooring means you can be creative, while also keeping cost and safety in mind.
Epoxy flooring for commercial properties Melbourne
Here at Concrete Floor Renovations, we've been providing beautiful concrete floors for commercial properties in Melbourne for over 20 years. We've received many fantastic reviews, and pride ourselves on completing very high quality work, without cutting corners. We'd love to help you transform your commercial space.