Types of Concrete Floor Finishes
Concrete is a versatile material that can be used in a variety of flooring applications. There are many different types of concrete floor finishes available, each with its own advantages and disadvantages.
The most common types of finishes are polished concrete, stamped concrete, and stained concrete. Let's take a closer look at each one.
Concrete Floor Finish Options
Polished Concrete
Polished concrete is one of the most popular types of concrete floor finishes because it provides a beautiful, glossy, and durable surface. It is created by grinding the concrete down to expose its natural aggregate, which gives it a unique texture and appearance.
Once the desired level of shine has been achieved, the floor is then sealed and buffed to ensure a long-lasting finish.
Stamped Concrete
Stamped concrete is a great way to add texture and interest to an otherwise plain concrete floor.
This involves imprinting or "stamping" patterns or textures into the wet concrete before it dries, giving it a natural stone or brick look.
Stamped concrete is perfect for creating a unique and stylish look in any commercial or industrial space.
Stained Concrete
Stained concrete is another popular type of finish that can be used to create a custom look for your floor. A coloured acid-based stain is applied to the surface creating a vibrant and unique appearance. So no two floors ever look the same.
Stained concrete also offers an additional level of durability, making it perfect for high-traffic commercial and industrial areas. No matter what type of finish you choose for your floor, it's important to get it done professionally.
Decorative Concrete Floor Finishes

Decorative concrete floor finishes are a great way to add a unique and eye-catching look to your commercial or industrial space. These types of floor finishes are often used to emphasize the existing design elements, such as brickwork or stone, while also providing an extra layer of protection from day-to-day wear and tear.
Options include stencilled concrete, exposed aggregate, and epoxy coated concrete.
Exposed Aggregate
Exposed aggregate is a great way to add colour and texture to your floor without the use of paints or dyes. Exposed aggregate in when a part of existing concrete is ground away to expose the natural aggregate underneath. This creates a unique, one-of-a-kind look that you won't find anywhere else.We offer different levels of aggregate depending on the look you're after.
With Exposed aggregate finishing we can achieve different looks like a more matte look through to a slick high gloss looking floor.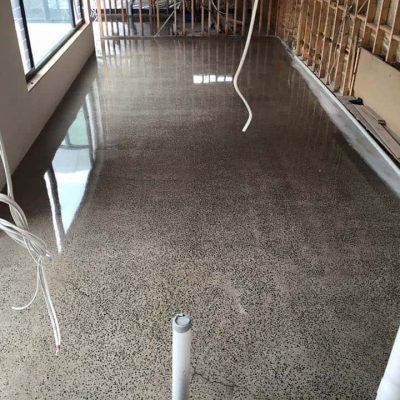 Epoxy Coated Concrete
Epoxy concrete is perfect for those who want to make their floor stand out from the crowd. With epoxy flooring you can create a vibrant and unique look that is durable and easy to maintain. Coloured epoxy is perfect for adding a splash of colour to any commercial or industrial space.
Ways To Finish Concrete Floor

When it comes to finishing a concrete floor, there are several different options available. Each method offers a unique look and feel, as well as their own advantages and disadvantages.
While any way you decided to finish your concrete floors our speciality comes with our epoxy and polished concrete floors. Our experienced team have a wide variety of experience creating unique looking floors that you or your business can be proud of.
Types Of Concrete Floor Finishes From Concrete Floor Renovations
When you're ready to start looking at concrete floor finishes, make sure to contact a professional concrete contractor who can provide you with the best advice and assistance in selecting the right finish for your space.
With the right finish, you'll have a beautiful and long-lasting floor that will be the envy of your neighbours. By considering all options, you'll be able to choose the perfect concrete floor finish for your commercial or industrial space. One that both looks great and performs well for years.
Make sure to contact a professional concrete contractor who can help you make the right choice for your project. Our team of professional concrete floor specialists are here to help you through choosing the right finish for your project while ensuring that we can create an aestetic you'll love.
Give us a call to get started today!