Benefits of Concrete Floors Over Other Flooring
If you're looking for a flooring option that is both stylish, modern and long-lasting, polished concrete is a standout choice. Popular among interior designers for its sleek look, polished concrete has a surprising list of additional benefits, when compared to other flooring choices.  
Polished concrete floors are versatile
Whether you're after a matte, satin or high gloss finish you can achieve it with polished concrete.What are the different options and where are they best used?
Polished concrete floors are cost effective
One myth is that polished concrete floors are expensive, but this isn't true. Despite its high-end look, polished concrete floors are very cost effective.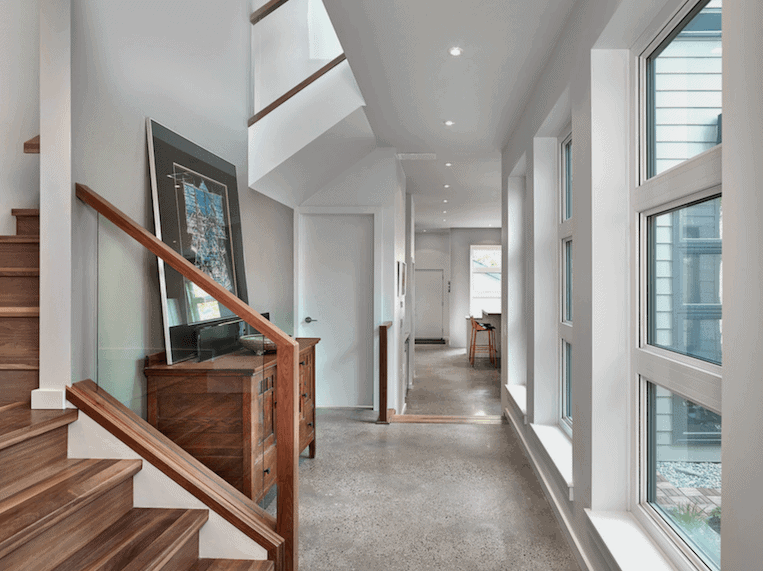 Polished concrete flooring is incredibly long lasting, and easy to maintain, reducing your cleaning bills and looking fabulous for decades! As concrete flooring is so durable and reliable, you won't need to replace it for many years, making it incredibly cost-effective.
It will also save you in heating and cooling due to its thermal qualities.
Your budget can also be taken into account when choosing your concrete finish. Grind and seal polished concrete involves using a diamond grinder on the concrete's surface followed by a topical sealer over the surface to achieve a matte, satin or gloss finish.
Mechanically polished concrete involves additional steps such as hardening your floor using a densifying compound and then physically polishing the surface of your concrete up to the desired gloss level. It will cost more upfront, but provides a more durable and abrasion-resistant finish – making it more cost-efficient over time depending on your needs.
Polished concrete floors natural heating in winter and cooling in summer
While tiles can feel super cold underfoot year-round, and carpet can feel too warm on hot summer days, polished concrete adapts to the season. It's surprisingly warm in winter and cool in summer.
How? Polished concrete is a thermal mass material, absorbing and storing heat throughout the day and releasing it slowly. For additional warmth, on a new build you can also install underfloor heating into your slab when it is initially laid.
They are sustainable
Polished concrete floors are more sustainable than other flooring types for a variety of reasons:
Energy efficient

– Comfortable in summer and winter, reducing your heating bill and easy to clean reducing your power needs.

Reduces Landfill

– As your concrete flooring is long lasting, you won't need to replace it for many years, reducing the amount of material thrown into landfill over time. Recycled materials can also be used to manufacture concrete, decreasing the environmental footprint of your project by saving on natural resources, pollution and costs associated with floor coverings.
Easy to maintain
It's worth taking time to consider how much maintenance different flooring options require.
Carpet requires regular vacuuming and steam cleaning for stain removal
Tiles need mopping and grout requires elbow grease to remove dirt and mould
Wooden floors often take time to clean due to the spaces between panels.
Concrete is super easy to clean. Sweeping and mopping with a mild cleaner takes only minutes and will keep the surface looking fresh and new for many years.
Less maintenance is required for polished floors, when compared to other flooring types because the surface is waterproof and resistant to bacteria growth
Wondering how to maintain polished concrete floors? It's easy.
Concrete is one of the most durable materials available, so it's perfect for use in high-traffic areas like your kitchen or living areas. Besides the occasional sweep and mop, your polished concrete floors will retain their beauty for years to come.
They are slip-resistant
Polished concrete floors may look slippery due to their shiny appearance, but they're actually slip-resistant, making them a really great choice for busy homes.
If your concrete floors are in areas of your home that are often wet, such as in kitchens or bathrooms, we can add a silica surface sealer or coating to provide additional slip resistance.
Grind and seal is recommended for outdoor areas, making them weatherproof also.
Perfect for allergy sufferers
As mould, mildew and allergens cannot build up on its surface, polished concrete improves air quality, when compared to carpet or tiles. This makes it a wonderful flooring option for health-conscious homeowners.
Concrete Flooring Specialists