Is Polished Concrete Worth The Investment?
If you are building or renovating, deciding on the type of flooring for your home will be high on the list of decisions to make. Polished concrete is both a stylish flooring option and provides many other benefits. It's a worthwhile investment if you are after flooring that is both beautiful, durable, and environmentally friendly.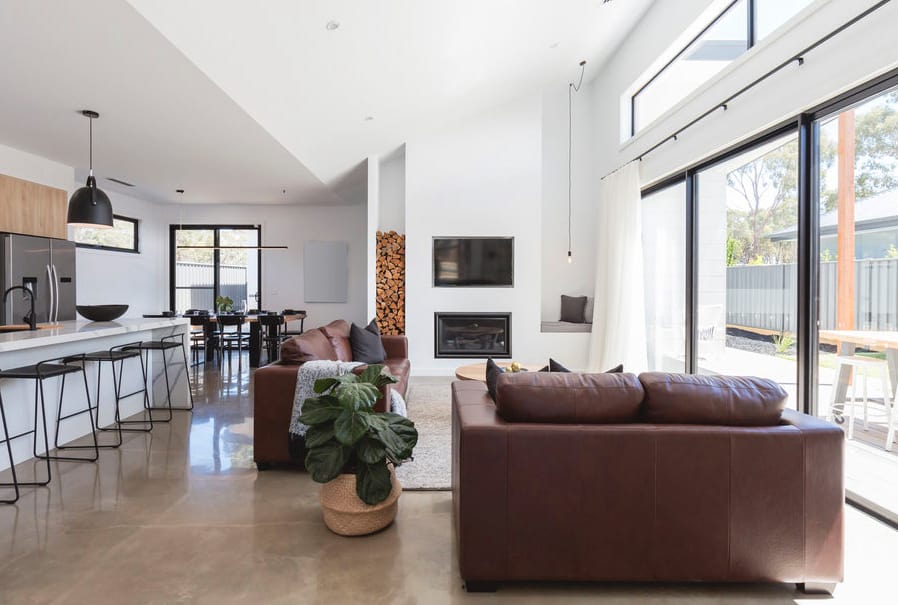 Polished concrete floors have many benefits. What are they?
Polished concrete floors have a timeless look
For beautiful, aesthetically pleasing floors, polished concrete is an excellent choice. You can choose to highlight the natural features and beauty of the concrete or choose a matte look.

You can design your concrete mix prior to it being laid for a new build giving you control over the aesthetic finish you'll get after its polish or you can transform the existing concrete in your home. Either way a process of grinding, sealing and polishing to achieve your desired look is used. 
Polished concrete floors are long-lasting and low maintenance
One of the overriding benefits of concrete floors is how durable they are.

Polished concrete is also super easy to clean. Due to the sealing and finishing process, it is watertight, so any spills are easy to clean up, unlike carpet or some other surfaces and it won't stain. 
Heating and cooling benefits
Due to the thermal qualities of polished concrete flooring, you will find the surface warmer in winter and cooler in summer than tiles. This is because it absorbs heat through the ground and internal air temperatures etc rather than from outside and retains it for longer. 
Health benefits 
A great reason to invest in concrete flooring is due to the health benefits. As polished concrete is so easy to clean and is dust repellent, there is less chance of mould or mildew forming. It also reduces allergens in your home, as it won't retain moisture or odours.

Environmentally friendly 
If you're looking for sustainable materials to use in your home, polished concrete is a great option because:

Recycled materials can be used to manufacture concrete 

It has a long life – meaning you're less likely to need to replace your floor for many years. 

It decreases the environmental footprint of your project – Polishing concrete saves on natural resources, pollution and costs associated with floor coverings. 

It lowers landfill – maintaining your floors by repolishing when the time comes is simple, creating very little landfill, when compared to replacing other floor coverings
How long do polished concrete floors last?
A stunning floor gave this Melbourne office a fashionable modern look, making it a professional morale-boosting workplace for staff and creating a great first impression for visiting clients. (Image showing office space)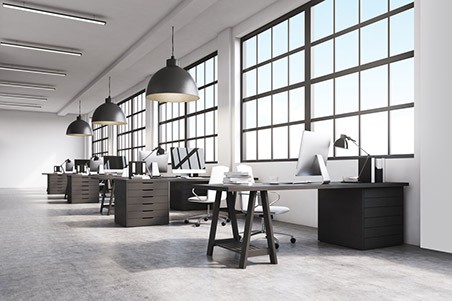 What will polished concrete cost?
There are options to consider when installing and renovating a concrete floor that will affect the cost. However, polished concrete can be very economical especially over the long term. Polished concrete floors can save you money, also as they are very low maintenance and durable.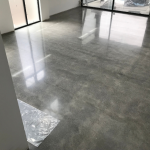 The cost of your concrete flooring will be determined by a number of factors including:

Floor size – A larger floor will cost less per square metre than a smaller floor due to the ratio of edging to polishing and other factors.
Current condition of your floor – Whether your existing concrete flooring requires repairs or if it is new concrete well laid.
Access – Do you have lots of stairs, a small lift or other challenges, or will workers find it simple to access your home? 
Finish and polishing method – There are 2 methods of creating polished concrete floors, Grind and Seal and Mechanically polished concrete. 
Grind and seal polished concrete
Grind and seal describes the process used to create this aesthetically pleasing polished concrete style via diamond grinding the concrete's surface, and then applying a topical sealer over the surface to create a matte, satin, or gloss finish. It embraces the natural features of your concrete while being cost-effective.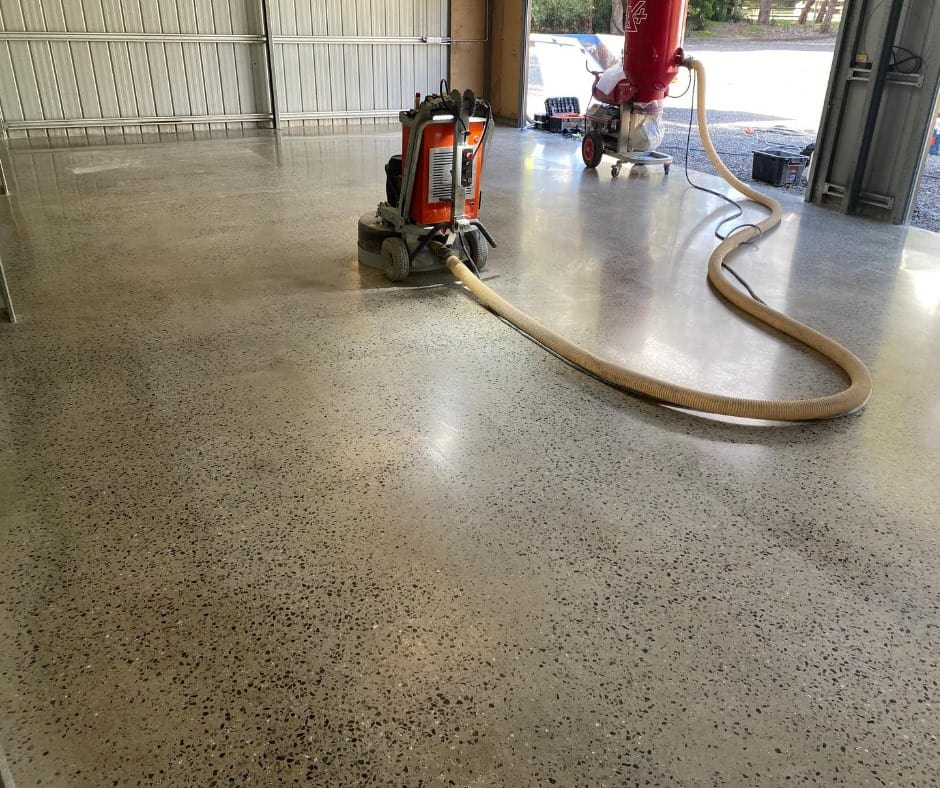 Mechanically polished concrete
Mechanically polished concrete finish features a more involved process, involving grinding, grouting, and repairing your concrete floor, if it's an older surface it is hardened using a densifying compound. The surface of the concrete is then polished with diamond impregnated resin pads to the desired gloss levels.
This process provides the strongest, most durable, and abrasion-resistant finish available for your concrete floor. It will highlight the natural features and beauty of your concrete floor, regardless of its age.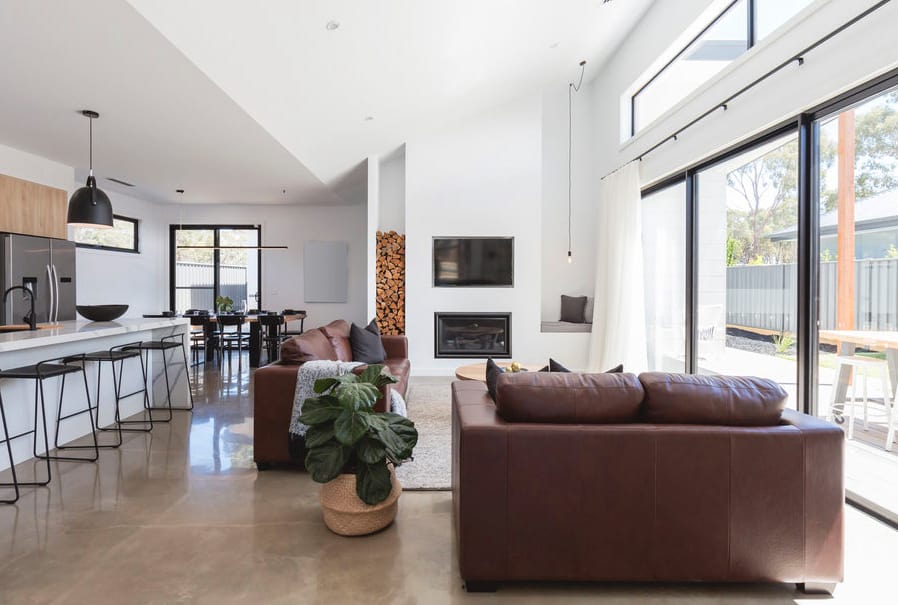 What is the polished concrete floors price per square metre?
We quote and charge for each polished concrete job on its own merits to be as fair as possible to all concerned using per m2, and whilst like with all trades we sometimes come across some ridiculously low pricing in our industry we don't find that acceptable as it almost always means a compromised finish, something we refuse to do. 
Generally speaking our quality grind and seal finishes will cost approx. $50 – $90 + gst per square metre and our mechanically polished floors, offering the most superior look, feel and durability generally range from approx. $70 – $130 + gst per square metre. 
Keeping in mind that costings can vary outside these ranges considering our works can vary from a small concrete floor area say a 20m2 garage, to a few hundred m2 in a high-end home to a warehouse or commercial floor area measuring 1000's of m2 all with varying layouts and all with concrete in varying conditions etc.
Contact us to find out how we can help transform your home, commercial or industrial floors to a showpiece, not just a floor.