Benefits of Concrete Steps and Pathways
Are your stairs and pathways in need of some TLC? It happens. Paving often loses its lustre over time and tiles can chip or fall off. Whether you are building a new staircase in your Melbourne home, or you're assessing options to revitalise your existing outdoor areas, there are many benefits of concrete steps and pathways that make concrete the way to go. 
Benefits of Concrete Steps and Pathways
It's Versatile
Concrete steps and pathways are available in a huge range of styles and colours, from modern mechanically polished concrete to exposed concrete showcasing the natural aggregate and even epoxy coated concrete. There is certainly an option to suit your needs. 
It's Durable
Concrete steps and pathways are incredibly durable. When your concrete is sealed and finished professionally, it provides you with the confidence they will stand up to everyday foot traffic for years while still looking great.
It's Cost-effective 
Your concrete pathways and stairs will last for many years, with very little maintenance, making them very affordable. There are a range of styles to choose from, with loads of options depending on your needs and budget.
Stylish Designs 
If you're looking to make a statement, with a beautiful new stairway in your home, office or exterior, concrete is a great option. Don't think concrete is boring! Popular in design magazines, polished concrete is beautiful, while also being durable and slip-resistant – giving your property a stylish look, while ensuring your stairs function well too.
Concrete for Function and Form
If you love entertaining, concrete flooring, stairs and pathways are wonderful, in both indoor and outdoor locations, as they not only look good, but they're safe. Concrete flooring, Eliminates those chipped or missing tiles to trip on, and without grouting or gaps in the surface it provides for a smooth and functional option. concrete is also hygienic and super easy to clean.
Concrete landings and balconies can be added to complete your look, and to ensure durability and style across your whole property. Whether you are renovating your home, a commercial property, or even an industrial setting such as a warehouse, concrete stairs are a perfect way to elevate any space.
Concrete can also be used in outdoor areas prone to getting wet, such as around swimming pools and outdoor entertaining areas. As it is slip resistant and impervious to chemicals like chlorine, it makes concrete an excellent option for floors, stairs and pathways while offering a good looking and functional area which will last you for years to come.
Types of Concrete Steps
Open any high-end home magazine or visit modern interior design websites, and you'll see polished concrete flooring, with stylish stairs to match. Wondering how to create this look in your Melbourne home?
Firstly you'll need to decide on whether you'd like precast or poured in place stairs.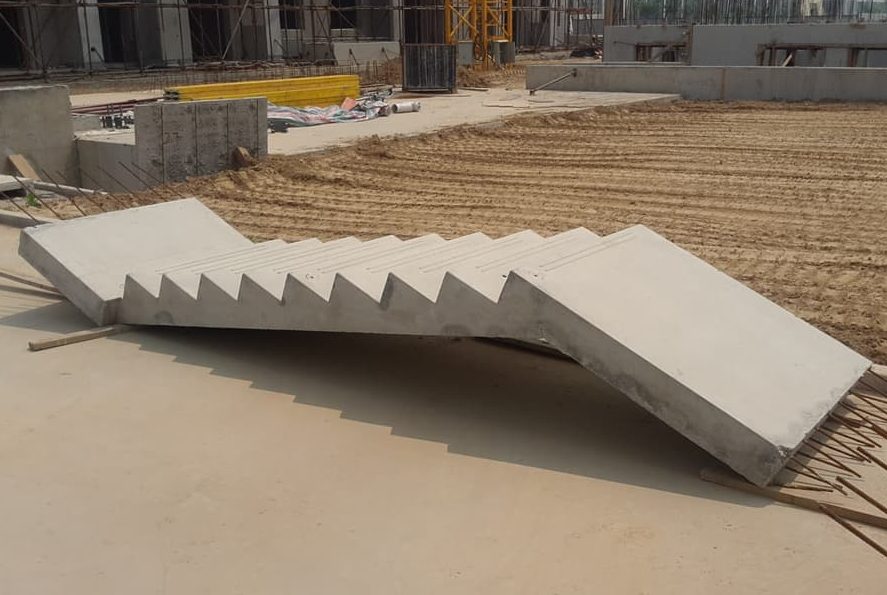 Precast concrete steps
Ideal for both indoor and outdoor locations. They are manufactured ahead of time, away from your property, so they can be installed quickly, and can be used almost immediately after installation, as no drying time is required.
Poured in place steps
Poured at your location, in staircase form. Drying time is required, so conditions will need to be considered for outdoor areas.
There are then a number of style options to consider, to ensure your stairs complement the rest of your space, such as the size of your stairs, and whether you'd like a standalone staircase, or rising stairs. We can also incorporate the use of railings and planters.
You'll then need to consider the finish you'd like. Mechanically-polished concrete will give you a luxe, stylish finish, with a glossy sheen. You can also choose concrete steps and concrete pathways with a natural look, you can expose the aggregate or introduce colour into your flooring by adding flakes or epoxy.
Colourful Concrete
Your concrete steps and pathways do not need to be grey. Adding an epoxy finish to your flooring gives you a huge range of options for creating the look you're after. Epoxy flooring also offers the additional benefit of being more slip-resistant, due to the polymer resin used.
Due to these properties, epoxy provides more colour options, but also additional durability for warehouses or office buildings with heavy foot traffic and a lot of stairs.