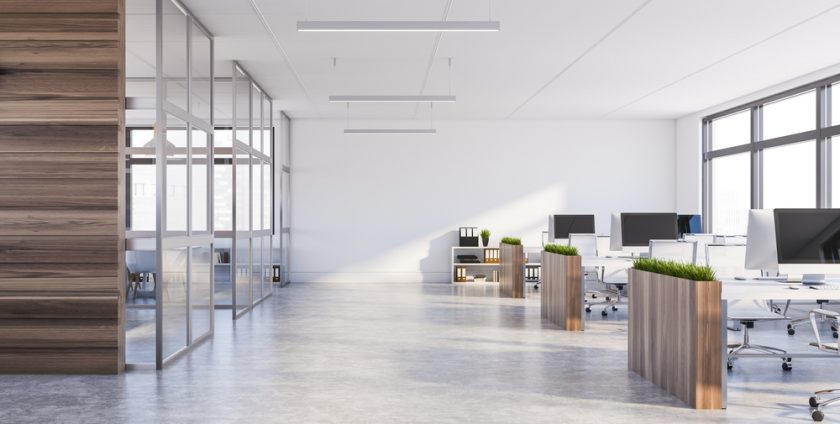 Best Flooring for a Commercial Office
There's a reason polished concrete floors are the most popular flooring choice for commercial spaces. As a flooring material, it has the strength and durabilityto last through the heavy foot traffic an office faces. Durability is a necessity, and is one of the many reasons that polished concrete floors make the best flooring for commercial office spaces.

Advantages of Concrete Flooring
Not all floors are created equal. Hardwood, tile, laminate and carpet have many pros and cons, but concrete flooring has many advantages that surpass the rest. We recommend either polished concrete floors or epoxy flooring when looking for the best option for your new or existing office space. Here are our reasons why:
It's perfect for heavy foot traffic
Polished concrete floors can withstand the harshest conditions, such as office equipment and large furniture. Therefore it's an excellent option for office spaces where many people walk across the floor each day.
It's eco-friendly
We can use recycled materials to manufacture concrete, which decreases your environmental footprint. It saves on natural resources and pollution costs that come hand in hand with other flooring options. Additionally, concrete is considered a thermal mass as it holds and releases heat effectively, making the space more efficient to heat and cool.
It's easy to maintain
A properly finished polished concrete floor should last a lifetime. You shouldn't need to touch up the surface shine with waxes, sealants, or other treatments. When required, a simple sweep and wash is all you have to do to maintain your concrete floor.
Aestetically pleasing
Concrete floors have a huge aesthetic appeal and are regularly a design choice for interior designers and architects. They look elegant and leave a great first impression with their clean and modern look. Additionally, because concrete floors make such a statement, they're easy to style your office space with soft furnishings to create the right look for your business and feel for your staff.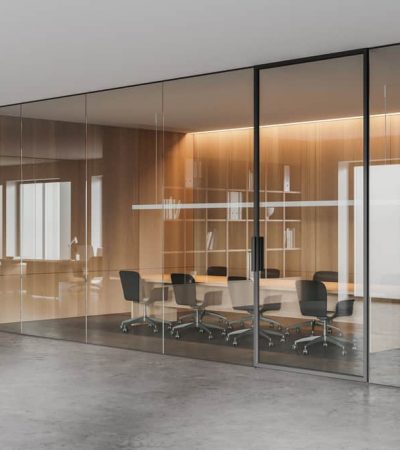 It's slip-resistant
If you have a high foot traffic area, you'll need slip-resistant flooring so as not to put anyone at risk. Epoxy concrete flooring is treated with a slip-resistant coating, making it hazard-free for anyone who walks across it.
It brightens dark spaces
Polished concrete floors naturally reflect light, especially artificial lighting often found in commercial offices. This makes them a great option for offices with darker areas and minimal natural lighting. Because concrete floors help brighten dark rooms, they can also help reduce the use of electricity that you use for artifical lighting.
Commercial Office Flooring Ideas
Having a clean and well-designed office helps build your business' reputation. Just as your staff are important for representing your business and your service, Your commercial office space is also a reflection of your business as it shows your quality and professionalism.
Many people don't realise how versatile polished concrete floors are. We can work closely with you to achieve any concrete office flooring idea you have. We can add colour to the concrete with dyes and pigments to create beautiful earthy tones. We can add surface treatments such as acid stains to create one of a kind finishes. You also have a choice of finish options and gloss levels to suit the ambience you're after. We also have a range of colours available in our epoxy flooring which provides even more options for your office flooring.
Concrete Flooring is the Best Option For Offices Spaces
With all this taken into consideration, commercial concrete flooring makes for an excellent choice when deciding what flooring to choose in your new office, or if you're looking to expose the existing concrete under your old floor. With 20 years of experience in the concrete flooring industry, Concrete Floor Renovations is one of Melbourne's top flooring companies. Our employees are highly skilled and creative, ensuring we create the best concrete flooring option for you and your commercial space.
Give us a call to find out why concrete flooring is the best choice for commercial spaces and discuss our available concrete options.